Two weeks ago I spent the day touring prairie remnants near Forest, Mississippi.
The outing was sponsored by the Mississippi Native Plant Society.  Heather Sullivan, our fearless leader, is a Botanist and Curator of the Herbarium at the Mississippi Museum of Natural Science.  So.. we were in good hands.
Our primary goal was to visit Harrell Prairie Hill a 160 acre tallgrass prairie preserve to view the purple coneflower (Echinacea purpurea) display.  Harrell Prairie is part of the Jackson Prairie Belt which is a type of Black Belt Prairie.  The site is located in the Bienville National Forest.
I'm going to try something new with this blog post.  It will mostly consist of pictures and captions.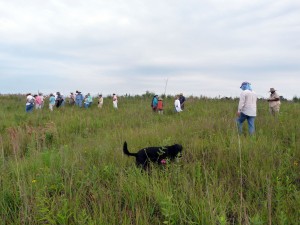 Here our whole group wanders through Harrell Prairie.  The sky always looks so large in a prairie!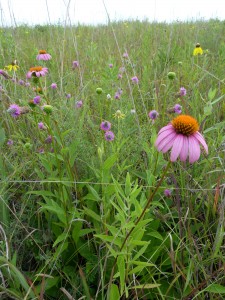 We quickly found purple coneflower in bloom along with purple prairie clover (Dalea purpurea), white prairie clover (Dalea candida) and yellow prairie coneflower (Ratibida pinnata).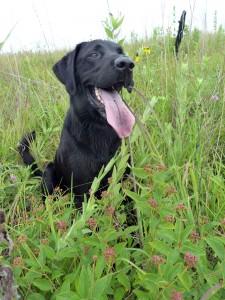 Monty had more fun than anyone.  He paused for a brief moment in the photo above to pose with New Jersey (Ceanothus americanus) tea in full fruit.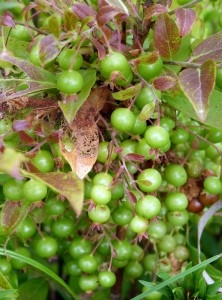 Speaking of fruit – I have never seen a deerberry (Vaccinium staminium) with so much fruit.  Every one of these huckleberries that we encountered in the prairie was loaded.  But… unfortunately the fruit was not ripe.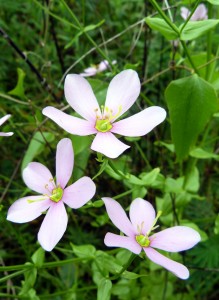 Rosepink (Sabatia angularis) was blooming throughout the prairie.  I hope my Latin name on this one is correct.  At any rate, this plant is a member of the gentian family and is an annual that comes back from seed every year.  It is very delicate in appearance but tough as nails.
I was having such a good time  and finding so many interesting plants that I decided to continue the field trip after the main group headed out in search of ac and cool beverages.  Many might describe them as the "smart ones".
Luckily I found three other diehards to accompany me.   I will post Part 2 of the Prairie Trip tomorrow.  Stay tuned!