I've been traveling a little bit.  A few days ago when I returned home, I greeted my husband, walked the dogs, exchanged pleasantries with the cats then headed back to the front yard to check for any new developments in my most recently planted bed.
I've made several posts about this bed beginning in April when my friend Marc helped me plant it.  The soil is compacted and gravelly since it was previously a part of the driveway.  I chose the toughest possible plants and they were charged with the task of providing a screen as quickly as possible without getting into the power line above.  I had been collecting rocks for some time and I planted some sandstone tube rocks vertically and edged the bed with small pieces of petrified wood given to me by my friend Pete.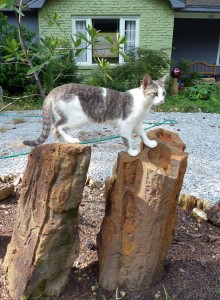 I know that Maybell loves this bed because she enjoys perching on the rocks.  I think I am obsessed with this bed because every time I get in my car or return home I walk right past it.  I have ample opportunity to study it a close range. The bed has a severe problem with goosegrass and I do most of my weeding a little at a time on the way into the house often with the mail and my car keys in one hand.
The Loblolly bay and St. John's wort that were the stars last month are through blooming.  They are growing well and have crisp clean foliage.  Unfortunately two of my star bushes (Illicium floridanum) have not fared so well.  They have succumbed to a wilt disease.  The third star bush still looks fine.
I am considering various replacement plants.  The replacements will need to be evergreen for screening.  They will need to be less than 8′ tall so they can stay below the power line.   If they are at all related to the star bush they are likely to be susceptible to the soil borne fungus that killed their predassessers.
My strategy for dealing with the heavy horrible compacted soil was to choose mostly tough native plants – prairie species in particular.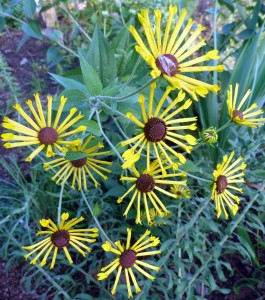 Right now the 'Henry Eillers' sweet coneflower is giving a stellar perfomance.  This selection of the native (Rudbeckia subtomentosa) has narrow rolled petals that look like quills.  I love the wild species and this cultivar is just as beautiful and florifourus.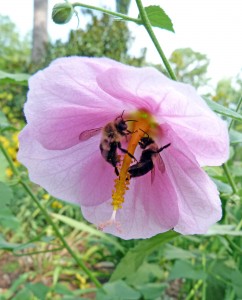 My 'Cassandra Loos' marsh mallow (Kostelezkya virginica 'Cassandra Loos') is in full bloom and is attracting a constant stream of pollinators.  This wonderful plant was introduced by my friend Greg Grant and named in honor of our sweet departed friend, Cass.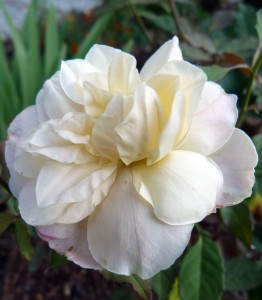 I have one antique rose in the bed.  "Marechal Niel' is a Noisette rose that was introduced in France in 1864.  It was named for Napoleon's Minister of War and was renowned for being a yellow reblooming rose.   A former student gave me my first 'Marechal Niel'.  I rooted many cuttings and gave them away before losing my stock plant.  My friend Lydia Fontenot was kind enough to give a cutting back to me.  That's why it's always a good policy to share plants.  You then have somewhere to go begging if you kill the original.
All in all this bed has been quite entertaining.  The star bushes didn't make it but everything else has.  And trust me – it IS a difficult site.  I stroll past it every day, though, so I know every inch of that nasty compacted soil and I have the utmost respect for those plants that have thrived.