Yesterday – I began documenting my recent trip to visit prairie remnants in the Bienville National Forest near the town of Forest, Mississippi.
The day began when a fairly large and diverse group of people assembled for a Mississippi Native Plant Society sponsored field trip to see the purple coneflowers in bloom at Harrell Prairie.
We all had a great time following our trip leader Heather Sullivan through the prairie – admiring the flowers and the butterflies.  But… around lunch time the majority of attendees had experienced enough sun, heat, thirst and bug bites.  They headed for some a.c. and cold beverages.
Meanwhile, I fell in with 3 other die-hards and we continued the foray.  My companions were Jennifer Heffner, Toby Gray and Rob Anders.
According to Wikipedia, there are 68 identified prairies in the Bienville National Forest.  Toby had set up research plots in some of them as part of his Master's Thesis in Landscape Architecture.  He drove us to a few of the sites and we continued our exploration.
We spent most of our time at the largest site which is near Homewood, Mississippi.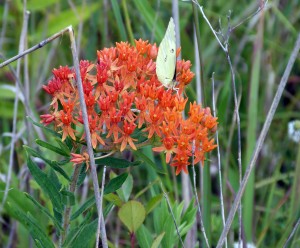 The Homewood Prairie has lots of butterfly milkweed.  The southern dogface butterfly sipping nectar here is a common resident of the prairie.   When the wings are open, the markings resemble the outline of a dog's head.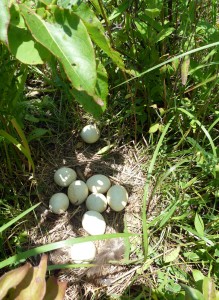 My most exciting moment of the day was when I came within 6 feet of this nest and flushed out the Mama turkey.  I'm not sure if I shrieked or squealed but I did make some sort of loud sound of alarm!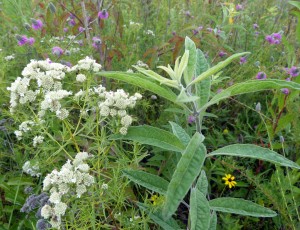 The narrowleaf mountain mint (Pycnanthemum tenuifolium) was blooming with purple prairie clover (Dalea purpurea) and black eyed Susan (Rudbeckia hirta)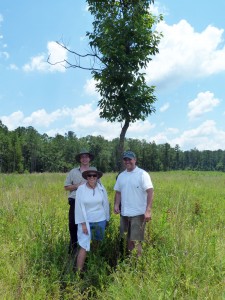 I took this picture of  Toby, Jennifer and Rob clustered under a spindly persimmon just to prove that there can be shade in a prairie.
Despite the heat and bug bites, I was delighted to spend the day gawking at wildflowers with these kindred spirits.